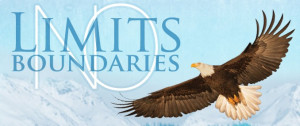 Kids grumble and complain, sometimes fight intensely, against parental discipline boundaries. But deep down they know and want a firm and loving adult hand who is in charge. They really do want to have authority exerted in order to help them develop their own capacity for responsibility.  What they don't want is a parent who dictates random rules just to be able to "show who's the boss".
When I was growing up my father, who was in the military for 20 years, expected blind obedience from my sister and I, who he adopted late in his life.  He had the arbitrary rule structure which just was, without the ability to question anything.  His favorite response when his authority was questioned with the "why?/why not?" question was, "Because I said so, that's why!" which was absolutely infuriating.  Without solid reasoning to gain an understanding of the rationale behind his decisions, I grew into a teenager (and subsequent adult ) that questioned authority, which wasn't very popular with my teachers and other administrators.  That practice contributed to my difficult teenage years, on top of other difficulties.
In just a few short years your teen will be in charge of his own life and needs the training today to help her tomorrow.  Teens know that they have not completely learned how to discipline themselves yet and that they need (and want) responsible parents to set and hold boundaries for them.
Parents who set reasonable rules, who get to know their friends and where they hang out, who create family time, who stay involved in their interests show that they care.  Parents who hang out with them, buy them anything they want, let them do and go wherever they want, and don't bug them about rules are doing their kids a great disservice.
COMMUNICATION TAKEAWAY:  Tailor-make your parenting -treat each child as the individual but they are.  Know your kid's unique character and gear the consequences of behavior that needs correcting to that unique child, instead of using a one-size-fits-all approach to parenting.   Recognize that the loss of certain freedoms (being grounded, doing heavy chores, losing the car privileges, Internet, activities, etc.) means more to some kids than to others; know your child and base your boundaries accordingly.