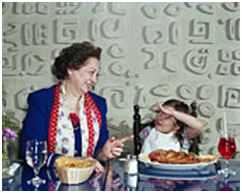 Every day parents affect to a greater (younger children) or lesser (older children) extent their children's likes and dislikes, based on their own likes and dislikes.  While this is easily seen in the foods that are served, food likes and dislikes can change greatly as a child turns into an adult. But other things like behaviors tend to lock-in.
Who likes to wash dishes? No one that I know really likes to do that chore, a necessary by-product of cooking and eating, but I remember each child of mine at four years old clamoring in turn to be able to help with the dishes that the older sibling was grumbling about having to do. And what was the response? "You just wait until you're older; you won't like doing dishes as much as you think you will!" Why do we turn off such helpful enthusiasm?  And if the child does grow up to actually like cleaning (I hear some people find that it's relaxing) society succeeds in dampening that enthusiasm with cries of: "I can't believe you LIKE to clean! Come to my house any day!"
So chores become hated and other activities become regarded as chores that don't need to be boxed in to that thinking.   Mowing the lawn, shoveling snow, raking leaves, detailing the car, spring cleaning, weeding the garden, the chores list goes on and on.   We make the behavior even less desirable by indicating that we will pay money to get out of having to do it ourselves (allowances are commonly tied to chores).  So chores become hated with the offsetting fun activities as the potential reward for getting through the nasty jobs.  And they become the nasty jobs because we label them as such based on our own preferences.
Gardening is the number one hobby in America and weeding a beloved garden is not a chore to the person who enjoys their hobby. But when it is presented as a 'have to' by a mother who hated it, and unconsciously passed on that hatred instead of a love of gardening, it certainly becomes a chore. Mowing the lawn, shoveling snow, raking leaves are all good physical exercise activities enjoyed in the great outdoors.  But when a coach potato parent reflects their dislike of these physical activities to their children, how are those children not also going to internalize the dislike?
COMMUNICATION TAKEAWAY:  Our beliefs hang on our values which we pass on to our children one way or another. Our strongest positive values are worth passing on, to build the character in our children. But our negative values that make us judgmental, sometimes intolerant, and not always nice also get passed.  Don't we have a responsibility to look at what were passing and at least try with the negatives to show another view in addition to our own?