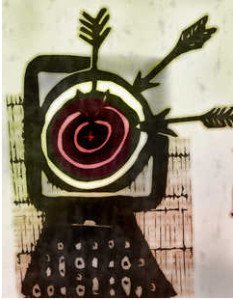 My computer was experiencing a "
runtime" error
, which I understand is quite
common
, but terribly
annoying to the lay user
like me, who is
just good enough
with technology to be
dangerous
.  This error kept popping up on my mini laptop about every three minutes, which doesn't look very good during a client presentation.
So I promptly googled the problem and gathered that it has something to do with "memory overload" and "registry issues".  The fix is apparently to download a registry cleaner program.  I downloaded one program, did everything I was supposed to do to fix the registry errors and got a clean bill of health.  I even double checked for errors and still came up clean.  So I thought the problem was solved, but no, it continued to persist in happening.
Once again back to Google, with all kinds of other potential solutions involving manual reconfiguration, all of which I tried, all of which failed to solve the problem.  Back to another registry cleaner, but wouldn't you think since my registry errors were all fixed, even double fixed, that the new software shouldn't find any errors?  Ha!  Wrong guess, Monty, because behind door #2 there lie 1835 CRITICAL errors.  Yes, these are not just simply "errors", "minor" errors, or even "large" errors – these all, every one of them, are "critical" errors.
When I hear the word "critical", a switch flips in my brain and I naturally assume my computer is going to pant its last breath, clutch its throat, and die a horrible death, mainly horrible due to taking all my valuable data with it, if I don't fix these errors by conveniently buying their software immediately.  And the promoters selling the software know the effect of certain words like "critical" – which is of course exactly why they use them.
That's the language of communication in action, in advertising.  Words create emotions that lead to actions because 95% of the time we act on emotions instead of on logic.  Later we rationalize our emotional actions with logical reasons, but those are after-the-fact, because we never want to appear to have acted wrongly or think that we would not act in our own best interests.  "Why would you buy that software when the first software was perfectly fine?" which is the logical thinking, takes a backseat to "Why would you risk losing your laptop and all the data on it to save a few measly bucks?" which is the emotional thinking.  [And clearly one software manufacturer has different standards from another software manufacturer on what is considered "repaired" and what is considered "critical" – but without having and understanding that specific knowledge, my making a good consumer buying decision is impossible.]
Many words have "their way with us" because we are programmed to react a certain way to certain stimuli, words being just one channel of communication, but a fairly big one in creating emotion.  When we want to communicate well, when we choose our words well, when we tell a moving story with just the right sentiment, language is the vehicle we employ for that effective communication journey with another.
COMMUNICATION TAKEAWAY:  Recognize the effect that specific words have on your emotions – some are specific to you, called "pushing your buttons" – others are generic, with the same effect on everyone – and know that you have the capability to change your reaction in both arenas.  Letting advertisers manipulate with words that appeal, for a variety of reasons, is within your control to change.  Those reactions to trigger words do not need to be automatic, simply by exercising some awareness before acting.
QUESTION: Have you noticed any words that pull on your heartstrings?  Now knowing them, can you resist their effect?