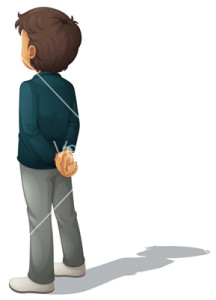 Communication is easy – right?  Or it should be – again, correct?  Not if you aren't approachable it isn't; at least not for the other person.  "But of course I'm approachable", you reply – hmm… are you sure?  Always?  "Well, I try to be."  How do you know if you really are approachable?
First of all, 'try' is a weasel word, whether stated internally to ourselves or externally to others.  Try really means 'permission to fail'.  Think about it – every time you say "I'll try to make it", "I'll try harder", "Well, at least I tried" you are letting yourself off the hook.  If you tell yourself to try to do something, know that deep down, you aren't giving it your best effort; you are allowing the possibility that it's not going to happen, which then becomes the reality.  Once the idea of not completing enters, forces move to complete the cycle.  Try is a dangerous thought to kill certainty.  It should change to "I will" which doesn't weasel out of anything.
Secondly, why should you want to be approachable?  Why is it such an obviously bad thing?  The thought of not being approachable conjures up images of a hard, solitary, gruff person who is so individualistic as to be a hermit or a prisoner of circumstances.  And there are obviously varying degrees of exile, whether self-imposed or societal imposed.  And since we are so culturally driven to get along with others for our team survival, being unapproachable is not helpful to social or work success.  We need others and we need to communicate well with them.
We are not approachable when we decide that we are 100% right and there is no swaying from that obvious fact.  When this pattern becomes ingrained, the you-can't-tell-him-a-thing-because-he-knows-it-all type, you are deemed unapproachable.  People steer clear of these types as hard to get along with.  Often parents fall into this pattern of thinking they are 100% right and the child knows nothing.  Whenever I would ask "why?" my father's standard response was "Because I said so, that's why" instead of treating me with the respect of potentially being able to understand.
We are not approachable when we talk too fast and the other person can't get a word in edgewise.  It becomes unpleasant to hold a one-way 'conversation' with a language hog that barely breathes within a volley of words that come gushing out.
We are not approachable when our body language screams of a negative emotion, primarily of anger.  Obviously the fear is that the angry person will lash out and vent their anger on you if you approach to interact.  How about the person who is just unhappy and appears angry much of the time?  Hard to approach by definition.
We are not approachable when we put up unconscious barriers to all or certain people – usually the ones that know us well – that make it hard if not impossible to get in.  These barriers can be high expectations, withholding of positive emotions like love and pride, or refusal to develop closeness.
Once we recognize that approachability is an issue with some or all of the people in our lives, the cure to the disease is have an open discussion with the person about the problem as recognized.  And if the problem is with everyone then the discussion needs to be with yourself.  When parents aren't approachable in the eyes of their children, communication is impossible.
COMMUNICATION TAKEAWAY:  If we look closely, we know that at certain times or with certain people or on certain subjects we are simply not approachable.  If this is a problem to be addressed, discussing it head on is the avenue to change.   The hard part is when this pattern of thinking becomes habitual and is harder to recognize it in ourselves.  It becomes part of who we are (nasty?  mean?  unlikable?  Just to certain people?  Just to our kids?), which takes work to unwind and work to bring about a desired change.