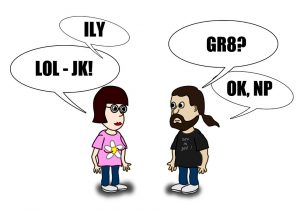 Language is not static, it's dynamic, changing and updating with the times.  Every year the big dictionaries add about 1,000 new words, one every 98 minutes.  That's a lot of newness to keep up with!
The average person has an active speaking vocabulary of 3,000 words, but understand many more words, roughly 20,000 words.  So which of the 1,000 new words each year do we need to really know to keep our language skills current?
There's no universal answer to that question, and it's really not that important, since to have clear communication is to use the simplest words possible in common useage, new or old.  Big multi-syllable words don't make you look smart, instead they distance you from others who don't know what you're talking about, and really don't care.
To shorten words, acronyms (using the first letter of a phrase) commonly evolve, especially in texting.  I know some common acronyms, like LOL and IMHO, but I must admit that I don't keep up with all the new acronyms like the younger generation does, having to google them to fully understand what the writer is trying to convey.
So when I saw a website with several acronym wearable pins for sale, and no clue as to the meanings, I knew that these acronyms were in common enough use to be recognizable to the general public.
Maybe you know these specific acronyms, that gave me pause to think – test yourself, before looking below for the meanings:
TBH
SMH
IDFWU
IRL
BAE
WTF (actually, this one I knew, like most people)
These are not random picks, but are from the pin website.  If you see someone wearing a pin (or t-shirt) (or see in a text message) with these capital letters, you won't shake wondering your head on the meaning.
Good luck keeping your vocabulary current with the changing times 🙂
TBH –      to be honest
SMH –     shaking my head
IDFWU – I don't f*** with you
IRL –      in real life
BAE –    1) babe
2) before anyone else (created after the fact)
3) cool (implied)
WTF – [look it up if this one isn't obvious to you]